Welcome to Scanamind – we are so pleased you are taking the time to get to know this truly revolutionary software.
Scanamind is an in depth profiling system that takes research data to an entirely new level. One that doesn't just catalog answers, but organizes and dimensionalizes them to help you understand the unspoken thoughts that drive individuals preferences and answers on a subconscious level.
Imagine that – discovering not just what people's responses are, but the mental and emotional factors that subconsciously drove that response!
While the resulting data analysis is in depth, the Scanamind research process is surprisingly simple. Utilizing an on-line questionnaire that takes about 10 minutes in total to complete, users choose a topic to research, provide a quick list of ideas relating to that and then answer a series of questions with quick (under two seconds) intuitive decisions. Scanamind then applies the mathematical principles behind quantum mechanics to visually express and map out the subliminal thoughts, feelings and driving factors that motivate the user on a deeper, subconscious level.
These results are delivered instantly via a structured "data map" of the questions and ideas you submitted at the beginning of the process.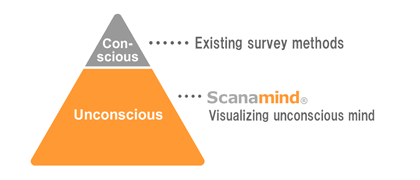 Imagine the powerful insights that can be gained in understanding the subliminal thinking that individuals might not even realize are driving their behavior. This depth and dimension of data can prove invaluable to marketers who want to truly connect to their communities, counselors working to crack the subconscious code creating distress and disease for their clients, couples struggling to learn how to better understand one another, and many, many others.
Would you like to try Scanamind and see for yourself how simple yet revealing it is? We would certainly love to offer you a free trial experience. Simply click to Next. ...